Back in April, I bought a Pinephone. I used the phone quite consistently for the first few weeks and I meant to write an update here a couple of months back, but work (and other things) got in the way a bit.
So, here is my delayed "first few weeks with a Pinephone" update.
As mentioned, I initially aimed to simply use the phone in its out-of-the-box state (i.e. Manjaro Linux with KDE Plasma Mobile) - not as a daily driver, but more as a means of measuring the phone's base case usability. However, hopefully with an aim to eventually being able to use such a device more full-time.
Overall impression
Generally, I've really enjoyed using the Pinephone. I mean, it is slow (compared to other modern phones), apps take a good few seconds to open, and the UI freezes every now and again. However, things are moving quickly - there are other OS builds and desktop environments available to try.
It is encouraging to see successes from the base shipped version of the device. For example, below is a picture of my dog that I took today using the Pinephone.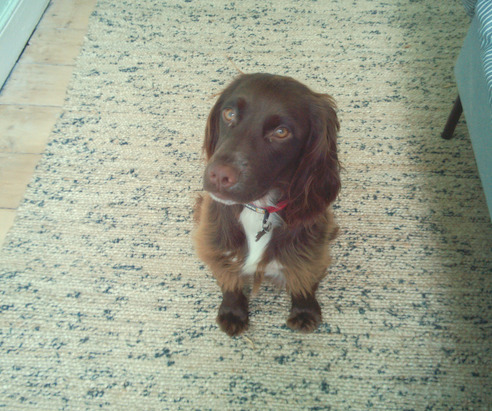 What did I try?
In my previous post, I outlined a few areas and day-to-day tasks I wanted to try and accomplish. I'll evaluate against each of them (so far!) below.
Basic calls and texts: ☑️ worked out of the box. The Pinephone accepted my SIM card and connected without issue.
4G cellular connectivity: ☑️ worked out of the box. Drops out every now and again, requiring a reconnect.
WiFi connectivity: ☑️ worked out of the box, automatically connects.
Bluetooth connectivity (including headphones): ☑️ worked without issue, was able to connect and play through my Airpods Pro. Airpods-initiated pause/play also worked!
Photo- and video-taking using both front- and rear-facing cameras: ☑️ ⚠️ taking photos works fine using the Megapixels app (though does require an app restart for the camera to activate properly), videos not yet present.
Web browsing: ☑️ works great, using the shipped Angelfish browser.
Podcast subscribing, listing, and listening: ☑️ Works great using the Podcasts app. Could subscribe to all my podcasts. Only thing I couldn't get working is changing the playback speed (though this I think is just a UI bug as the setting is there).
Audiobook downloading and listening: ☑️ I use Audible still as I am not aware of a good DRM-free audiobook retailer, however there are tools to convert the Audible AAX files you own to MP3 for DRM-free playback. AAXtoMP3 looks like it does the trick.
Music-playing (preferably through Spotify): ☑️ Works fine using the Spot app. Can access playlists and play music (ironically the Spot app is more responsive than the Spotify app on my iPhone!).
Mastodon (tooting and reading my timelines): ⚠️ Tootle looks great, but I have been unable to fully use it. (I can't for the life of me get copy/paste to work properly, and so I cannot copy the authorization code to login). But it works via the web.
RSS (viewing my feeds from my FreshRSS server): ☑️ Working fine using the NewsFlash app (connected via the Fever API to my existing FreshRSS server).
Email reading and sending: ☑️ worked OK using Geary. Unable to login to my Google Mail accounts, but others worked.
Telegram messaging: ☑️ Worked with no problems.
Password-management: ⚠️ Could not get working: the available Bitwarden app does not scale small enough to enable me to login. But promising it exists in the store.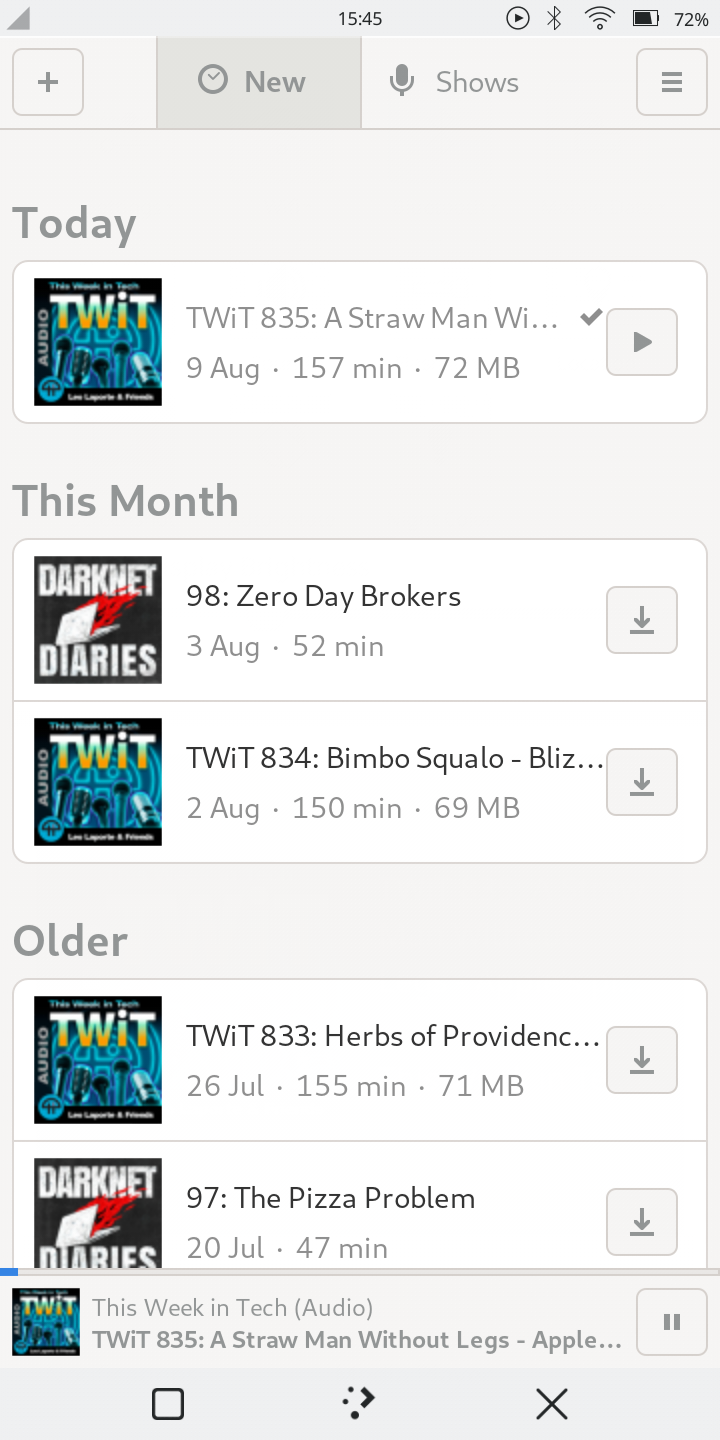 Above: a screenshot from the Podcasts app listing some of my subscriptions.
Moving forward
Clearly the Pinephone is capable of fulfilling most of my every-day mobile device needs - right out of the box. As I say, the device is a little slow and crash-prone (currently) to use fully as a daily driver. Additionally, the issue I'm having with Bitwarden and copy/paste makes accessing some services tricky.
However, this certainly feels like it's just the start. I am excited to give Phosh a go and to get involved further in the Flathub ecosystem to see if I can improve on the functionality and usability. I'll update again soon!